Samsung Electro-Mechanics develops the world's highest capacity MLCC for 5G smartphones
Registration Date

2021.06.29
◇ Industry's highest capacity of 27uF in the 1005 size
- Demand for high-capacity MLCCs increases due to the advancement of semiconductors such as AP and GPU
◇ In-house development of core raw materials and application of ultra-precision printing technology
- Achieving the world's smallest core powder particle of 50nm for dielectric layers
- Expanding storage capacity by stacking 150 more dielectric layers than existing products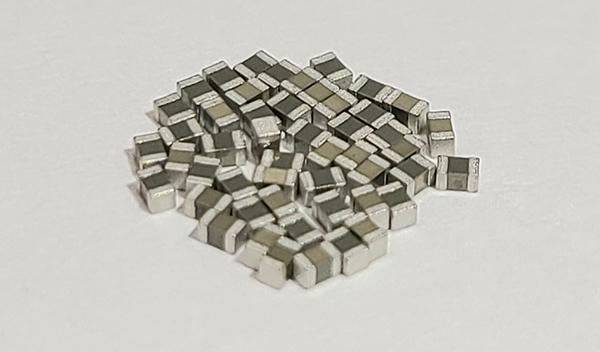 Samsung Electro-Mechanics announced on the June 29th that it has developed an ultra-compact and ultra-high-capacity MLCC. The newly developed MLCC is the 1005 size (1.0mm in width, 0.5mm in length) and can store 27uF (microfarads) of electricity, achieving the world's highest capacity. The 1005 size, along with the 0603 size, is the most used MLCC in today's smartphones. The previous maximum capacity was 22uF. Samsung Electro-Mechanics plans to supply this product to global smartphone companies from next month.

※ The MLCC (Multi-Layer Ceramic Capacitor) is a core component in electronic devices that controls the stable flow of current within the circuits of electronic products and is essential for smartphones, home appliances, and automobiles.

As IT devices are equipped with multi-functional and high-performance features such as 5G communications, multi-cameras, and flexible displays, the components installed inside are required to be ultra-compact yet high-performing. In particular, advanced semiconductors like APs and GPUs consume large amounts of power, so high-capacity MLCCs that can store a lot of electrical energy are crucial.

The new MLCC helps semiconductors operate reliably by reducing signal noise coming into high-performance chips such as smartphone APs and GPUs.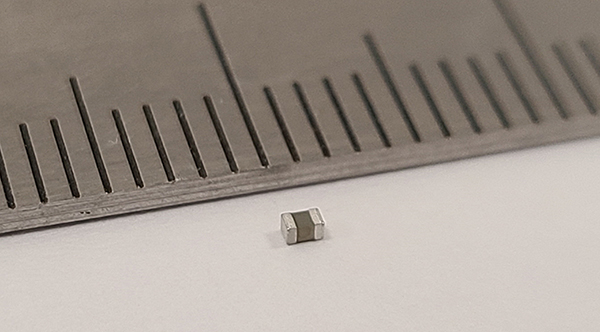 Samsung Electro-Mechanics differentiated core raw materials and manufacturing methods to achieve 27uF, 20% higher capacity than 22uF, in the same size.
To increase the electricity storage capacity of the MLCC, it is necessary to stack more dielectric layers and internal electrode layers. Samsung Electro-Mechanics developed 50nm powder, the smallest size among raw material powders used in the MLCC industry, and made the dielectric layer thinner than before. This made it possible to achieve higher storage capacity by stacking 150 more dielectric layers than existing products.

In addition, ultra-precision printing technology was applied to make nano-scale fine powder into a thin uniform layer. Samsung Electro-Mechanics also achieved the best-in-class DC bias characteristic (the product's capacitance decreases when a DC voltage is applied), greatly improving the lifespan and operational reliability of smartphones.

Kim Dooyoung, Vice President of the Components Business at Samsung Electro-Mechanics, said, "The demand for ultra-compact, high-capacity and highly reliable MLCCs is increasing significantly with the general availability of 5G mobile communications, advanced smartphones, and automobiles going electric. We will continue to contribute to the success of our customers as a market leader by strengthening production capabilities and unparalleled technology through in-house development of core raw materials and next-generation facility construction methods."

Samsung Electro-Mechanics started the MLCC business in 1988 and holds the world's second-largest market share in the IT sector. In particular, the company has earned recognition for the industry's best miniaturization and lamination technology.
Newsletter
Timely delivery of important
Samsung Electro-Mechanics news