What is a Power Inductor?

It's an inductor for power supplies and circuits, made from metal composite or ferrite materials. It is primarily used in circuits for converting a specific voltage into a required voltage, and serves to supply stable power to the IC. As the inductor is used in the power circuit, it is manufactured to maintain inductance when the current is applied and to have low resistance characteristics.
Metal Composite
The metal composite type is composed of metal powder-based body material and low-resistance Cu coil. It is divided into the thin-film type and the winding type, according to the coil manufacturing method. Samsung Electro-Mechanics continues to develop and launch high-efficiency products using metal composite materials.
Application

Power Circuits of Smart Phone, Tablet, Wearable Devices, IoT Devices, SSD, etc.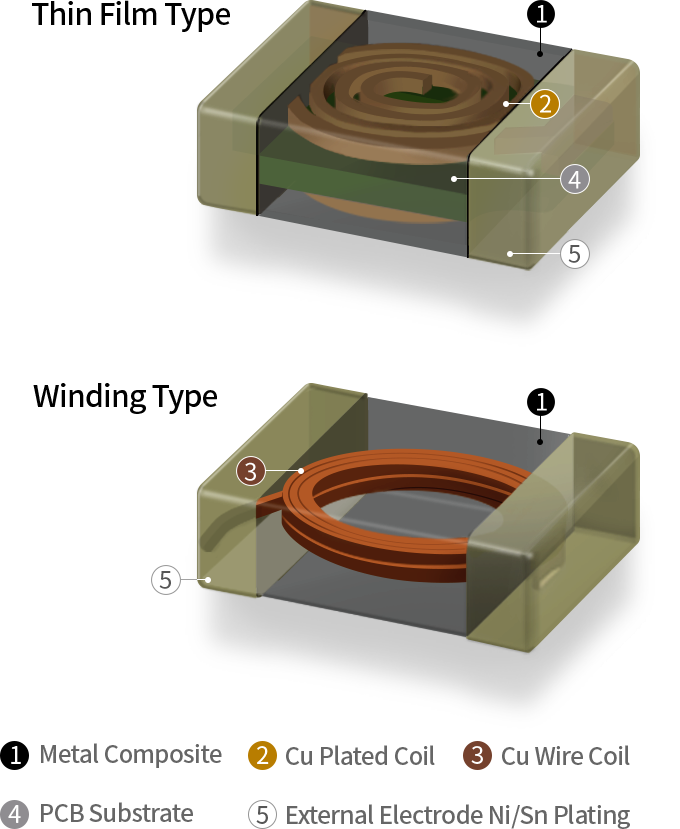 Thin Film Type: 1.Metal Composite, 2.Cu Plated Coil, 4.PCB Substrate, 5.External Electrode Ni/Sn Plating
Winding Type: 1.Metal Composite, 3.Cu Wire Coil, 5.External Electrode Ni/Sn Plating
High Current

Maintain High Current Characteristics by Slowing Saturation

Low Rdc

With Low DC Resistance, Improve High-Currency Efficiency
Ferrite Multilayer
Through thick-film printing/stacking using ferrite material with low core loss and Ag electrode with low conductivity, the product has excellent DC bias characteristics at low Rdc and low current.
Application

Power Circuits of Smart Phone, Wearable Devices, IoT Devices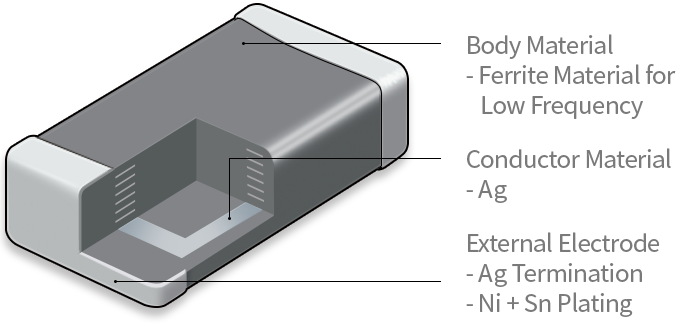 Body Material - Ferrite Material for Low Frequency
Conductor Material - Ag
External Electrode - Ag Termination - Ni + Sn Plating
Miniaturization

Easy Product Miniaturization

Highly Reliable and SMD-Workability

High Physical Reliability and Excellent SMD Workability