Chip resistors have the characteristics of limiting DC or AC. Such characteristics are used to drop the voltage or maintain the current at a certain level inside an electronic circuit. Resistance basically follows the Ohm's law. Materials of high and low electrical conductivities are used together to realize the required resistance value. The main resistance element materials of chip-type resistors are SiO₂, RuO₂, and CuNi, making it possible to make products that have high resistance, low resistance, ultralow resistance, antisulfur, and array resistance properties.
Standard Resistor
This resistor regulates currents and drops voltage in circuits by using properties that interrupt the flow of current in the electronic circuit. It prints resistance, electrode and protective material on a ceramic body, and implements the precision resistance required in the circuit in the form of SMD-capable chips.
Application

Smart Phone, PC, Digital TV, Camera, LCD, Memory Module, Game Machine, DC-DC Converter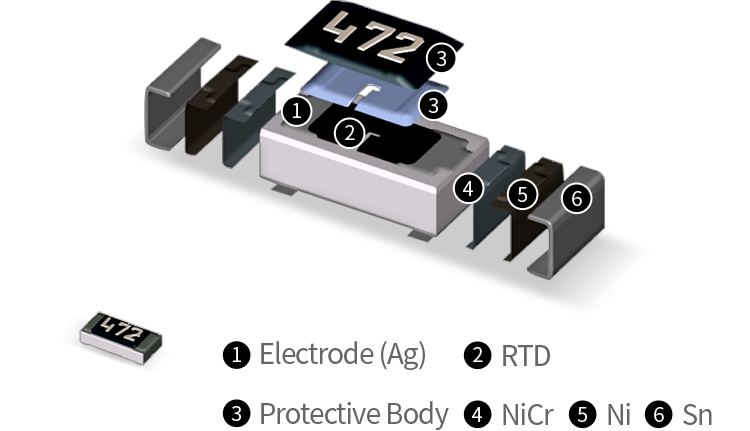 1. Electrode (Ag)
2. Overcoat
3. Resistor
4. NiCr
5. Ni
6. Sn
Ultra-Mini Size 01005(0402)

0.4×0.2mm ultra-mini size that can reduce the mounting area (55% reduction from 0.6×0.3mm)

Pb-Free Series

01005(0402) ~ 2512(6432), Antimony, Phthalate, Lead Free Eco-Friendly Products
Ultra Small Size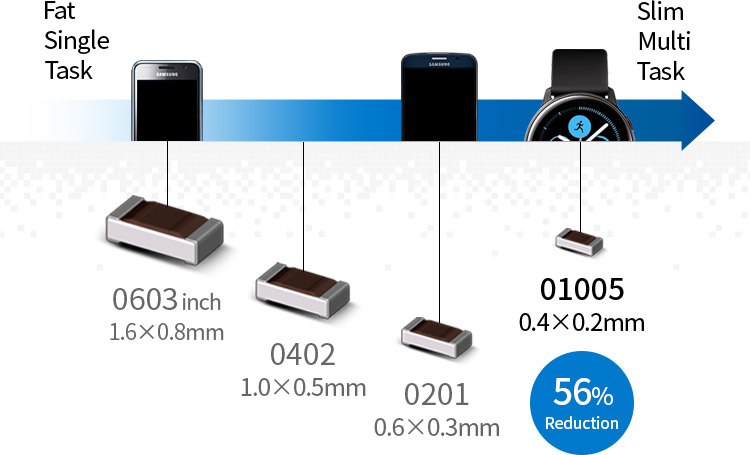 Array Resistor
One single array resistor can replace four or two single resistors. Using an array resistor can help reduce mounting area compared to using multiple single resistors. Array resistors are becoming more widely used, as they can help reduce the number of mounting processes and cut down on mounting time and costs, as well as significantly improve SMT productivity. Array resistors are used by major global semiconductor companies and have been recognized for their quality and performance.
Application

For Damping, Pull-Up/Pull-Down, Termination for Digital Circuits, Memory Module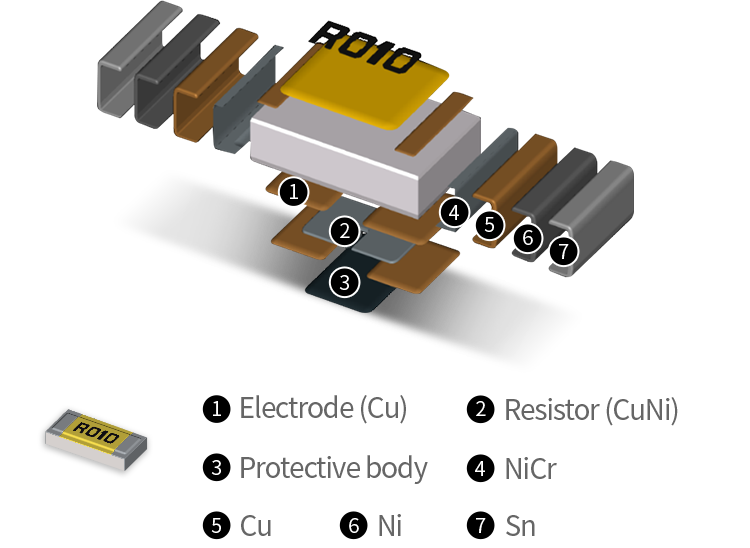 1. Resistor
2. Overcoat
3. Electrode (Ag)
Various Structure

A Variety of Array Products, with Resistors on either Bottom or Top Surface of the Body, depending on Usage

Small Array Resistor

Small, Lightweight, Thin 0603 Array (58% Reduction in Mounting Area vs. 1005 Array)
Lineup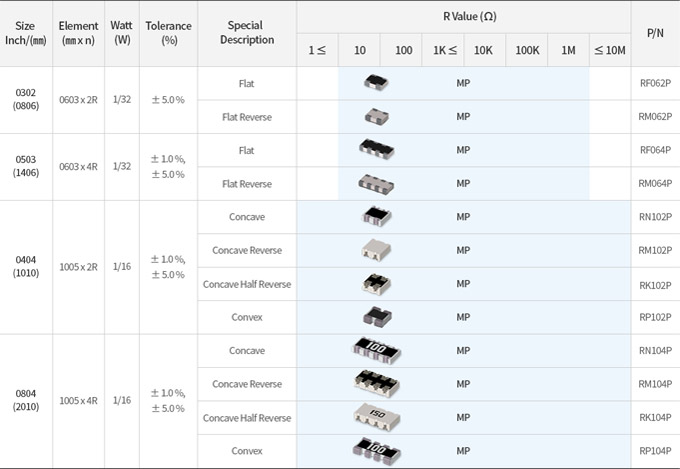 Anti Sulfur Resistor
For chip resistors, silver (Ag) is often used as the main material for electrodes. Silver, however, is easily corroded by sulfur (S) and gradually transforms into silver sulfide (Ag2S). Silver sulfide (Ag2S) is nonconductive and prevents currents from flowing between both terminals of a resistor. As such, it is necessary to use sulfur-resistant resistors for electronic devices used in adverse environments. it is necessary to use anti-sulfur resistors. Samsung Electro-Mechanics' anti-sulfur chip resistors are developed based on the company's own material and design technologies while utilizing materials that are highly resistant to corrosion by sulfur.
Application

Electronic Devices with Long-Term Reliability, Server System (Memory Module/HDD), Network Equipment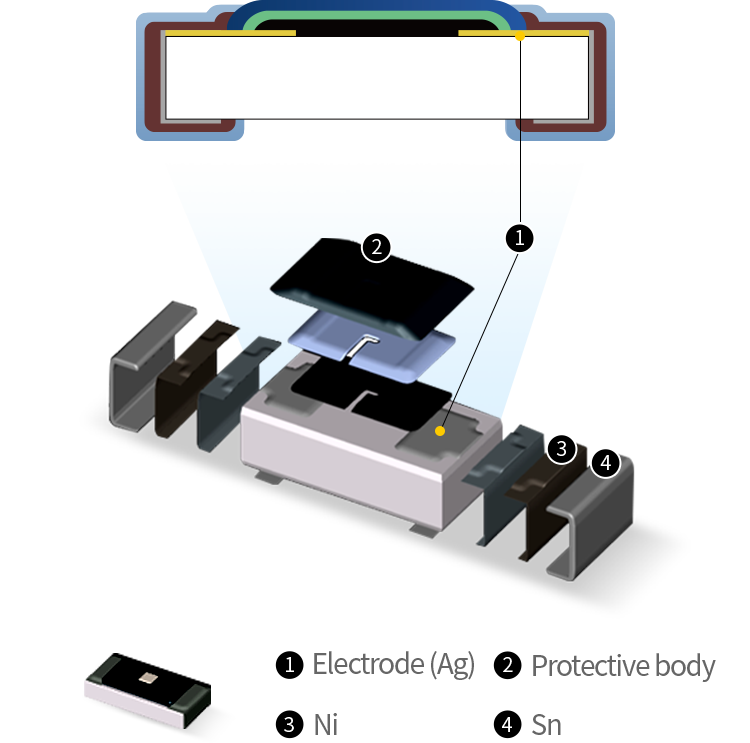 1. Electrode (Ag-Pd)
2. Overcoat
3. Ni
4. Sn
Track Record of Better Anti-Sulfur Performance than International ASTM B 809-95 Standards

Unique Material Technology enables Realization of Highest Level of Corrosion Conditions (105℃/720hr) Performance

Lineup of Various Resistors

Ranging from Small to Large (0603~6432mm), including Array Resistors
Enhanced Anti-Sulfur Performance
1. Chip Resistor Failure Mechanism
Noxious gas (SO2) in the atmosphere penetrates into the chip resistor, causing silver (Ag) corrosion → Electrical Characteristics Fail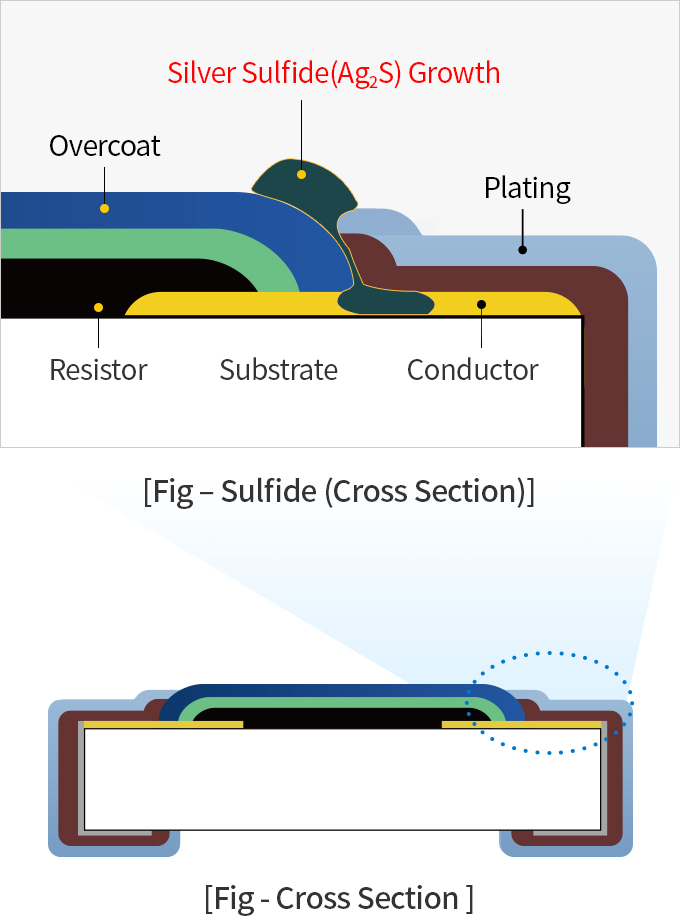 Overcoat, Silver Sulfide(Ag₂S) Growth, Plating, Resistor, Substrate, Conductor
[Fig - Cross Section ]
[Fig – Sulfide (Cross Section)]
Sulfur Gas Infiltration between the Overcoat Layer and the Plating Layer Interface
[Failed Chip Resistor]

[SEM - Sulfide ]
2. Apply Conductor (Ag-Pd) to Suppress Sulfur Corrosion (Ag2S)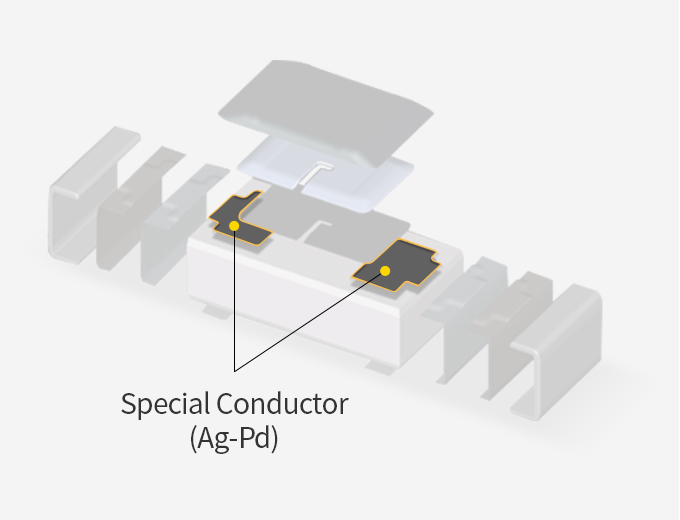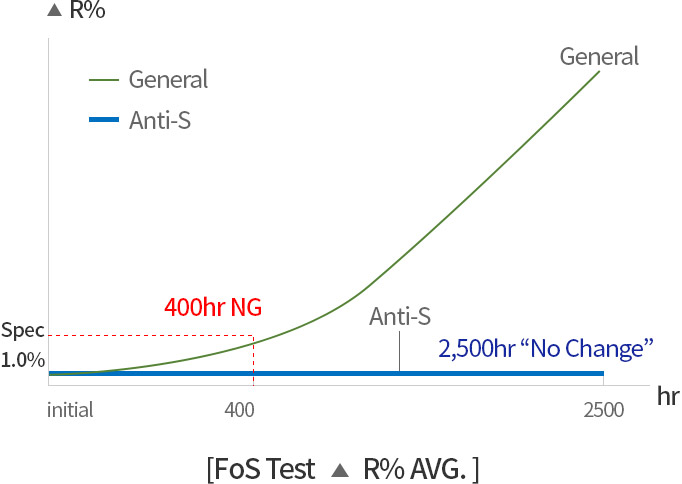 Current Sensing Resistor

(Thick Film Type)
An ultra-low-resistance product of the thick-film method used for current detection, this is an inverted mounting structure in which the resistor is located on the lower surface to reduce resistance error. This product has high rated power and low TCR characteristics.
Application

Current Sensing for CPU, DC-DC Converters, Inverter Power Supplies, Mobile Device, BMS(Battery Management System)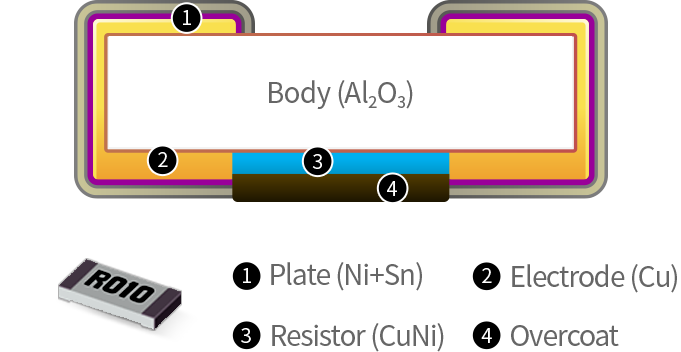 1. Plate(Ni+Sn)
2. Electrode(Cu)
3. Resistor(CuNi)
4. Overcoat
Thick Film Method

Various Low ohm (CSR) Series with High Power and Low TCR Characteristics

Resistance Error Reduction Structure

Inverted Mount Design with a Lower Surface Resistor Structure
Thick Film Method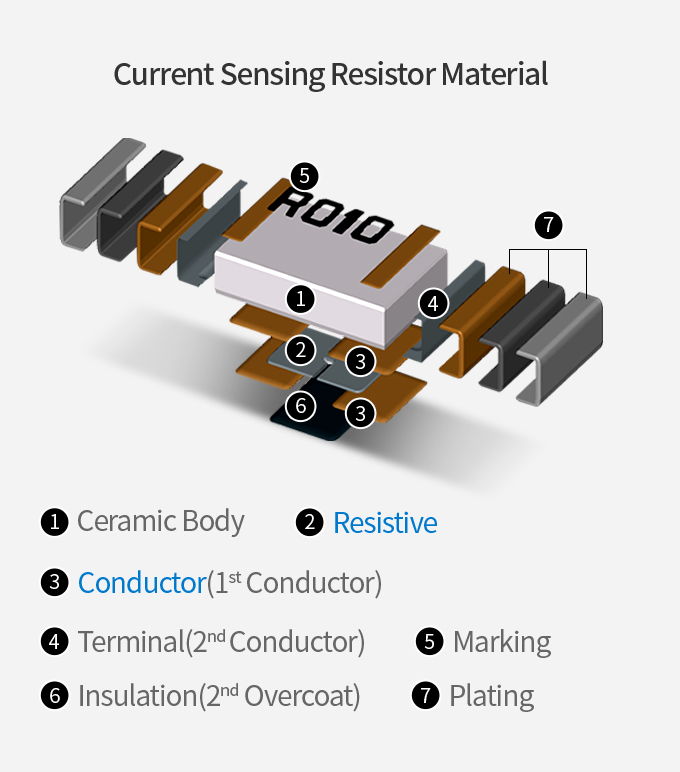 1. Ceramic Body
2. Resistive
3. Conductor(1st Conductor)
4. Terminal(2nd Conductor)
5. Marking
6. Insulation(2ⁿᵈ Overcoat)
7. Plating
Lineup by Specification Explanation

Explanation for Part Name, Substance Name, Material Name.

Part Name
Substance
Name
Material
Name
1. Body
Ceramic
Al₂O₃
2. Resistive Layer
(Self Product)
Resistor
Cu/Ni
3. Top Conductor
(Self Product)
Cu Alloy
Cu
4. Terminal Conductor
Sputter
Ni & Cr
5. Marking
Polymer
Epoxy Resin
6. Insulation
(2ⁿᵈ Overcoat)
Polymer
Epoxy Resin
7. Plating
(1ˢᵗ, 2ⁿᵈ, 3ʳᵈ)
Cupper,
Nickel, Tin
Cu, Ni, Sn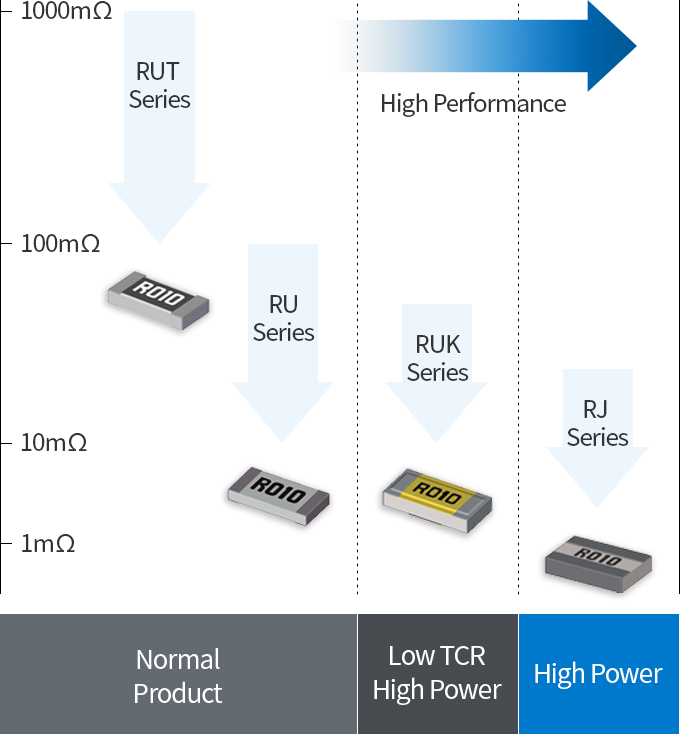 Current Sensing Resistor

(Metal Plate Type)
This is an ultra-low resistance product used for current detection as the main element of power control. It has an electrode structure for reducing resistance errors. It is a shunt resistor of the high-current metal-plate type, and has high rated power and low temperature property change.
Application

Current Sensing for CPU, DC-DC Converters, Inverter Power Supplies, Mobile Device, BMS(Battery Management System)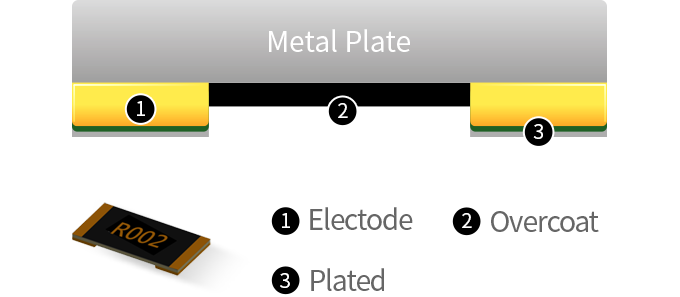 1. Electode (Cu)
2. Overcoat
3. Plated (Ni+SnCu)
Metal Plate Method

Various Low ohm (Metal CSR) Series with High Current and Low TCR Characteristics

Small SMD Type suitable for Reflow Soldering

Low Height Structure Applicable to Small Equipment