Chip Resistor is a passive electronic component that limits the flow of Direct Current (DC) and Alternating Current (AC). Among its properties is to lower the voltage or maintain the current constant inside an electronic circuit. Resistance basically follows Ohm's Low, while its Resistance Value is acquired through the combination of materials between high & low electrical conductivity being used together. The main resistor materials for Chip Resistor are Ag, Pd, RuO₂, CuNi, etc., which are used to manufacture general resistors, array resistors, ultra-low resistors, sulfur-resistant products, high-power products, and eco-friendly products.
Product
General Resistor
The product regulates current and drops voltage in circuit through the properties that interrupt the flow of current in the electronic circuit. It realizes the precision resistance required in the circuit in the form of an SMD-capable chip by printing resistors, electrodes, and protective materials on the ceramic body.
Applications

smartphone, PC, digital TV, camera, LCD, memory module, game console, DC-DC converter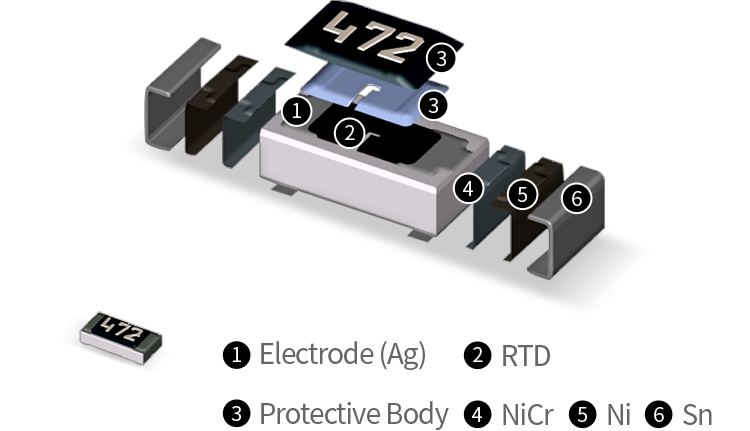 1. Electrode (Ag)
2. RTD
3. Protective Body
4. NiCr
5. Ni
6. Sn
Wide Selection of Size & Wide Resistance Range

A product with wide variety of sizes and range of resistance

Excellent Characteristics

A resistor with excellent electrical and mechanical properties

High Speed Automatic Chip Placement on PCBs

High speed chip- mounting on PCBs
General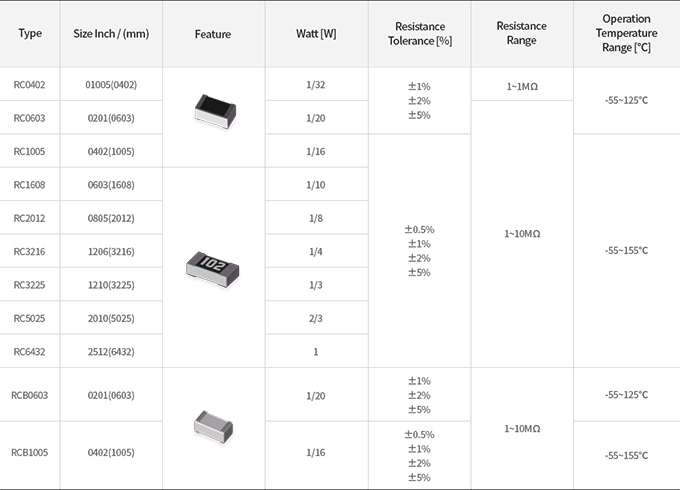 Array Resistor
Array resistor is an alternative to a four- piece or two- piece Single Resistors. It helps reduce Mounting space compared to its equivalent multiple single unit resistors. Array resistors are widely used and are gradually expanding as it can help reduce mounting time and cost which significantly improves SMT Productivity. Array resistors are maily used by semiconductor companies and have been recognized for its quality and performance.
Applications

damping resistor, pull-up/down resistor, termination for digital circuit, memory module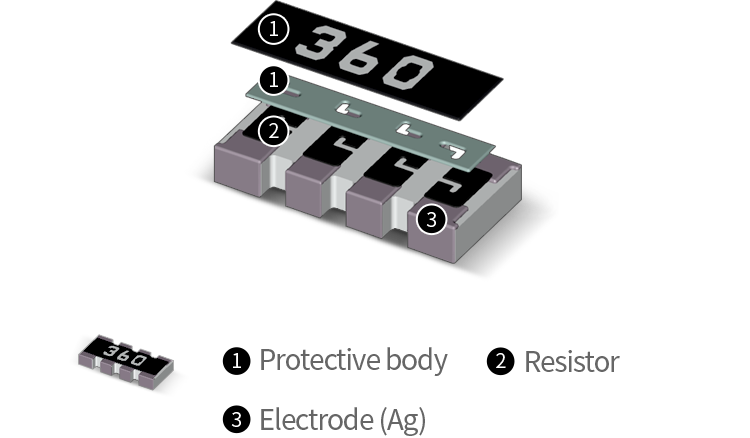 1. Protective body
2. Resistor
3. Electrode (Ag)
Various Structure

Various structures of Array products, with resistor either on top or bottom surface of the body depending on the application.

Small Array Resistor

Small, lightweight, and thin 0603 Array (58% less mounting area compared to 1005 Array)
Array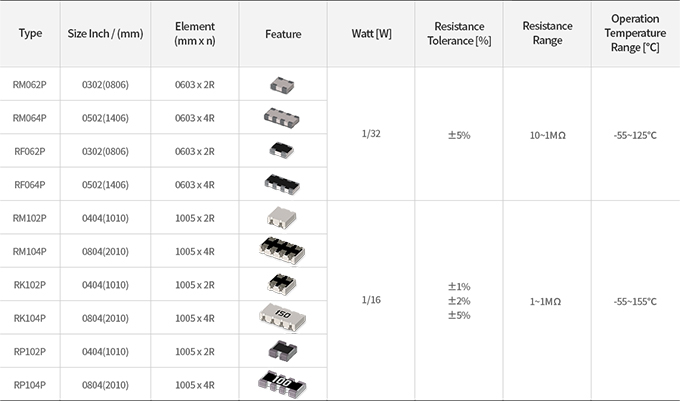 Current Sensing Resistor

(Thick Film Type)
An ultra-low resistance product manufactured with the thick film method that is used for current sensing, and has an inverted mounting structure in which a resistor lies on the bottom surface of the body to reduce resistance error. The product shows high rated power and less resistance changes on Temperature characteristic
Applications

Current sensing for CPU, DC-DC converter, inverter power supply, mobile device, BMS (Battery Management System)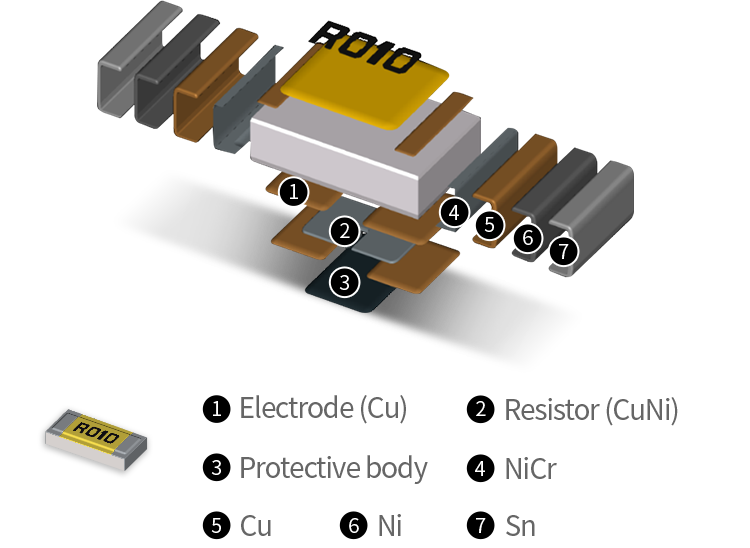 1. Electrode (Cu)
2. Resistor (CuNi)
3. Protective body
4. NiCr
5. Cu
6. Ni
7. Sn
Thick-film method

Various low-Ohm (CSR) series with high power and low TCR

Structure that reduces resistance error

Inverted mounting design with resistor at the bottom surface
CSR (Thick Film)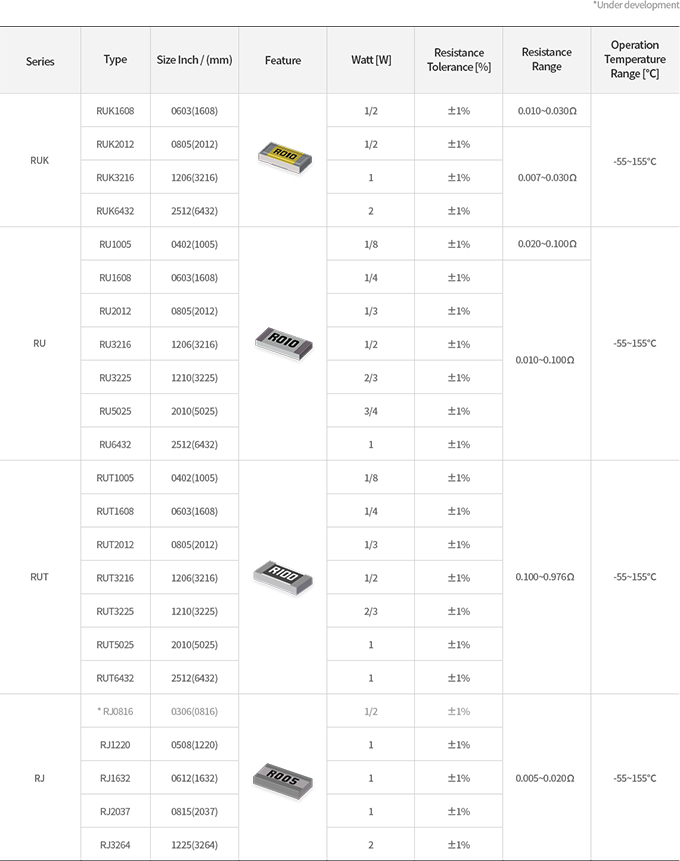 Current Sensing Resistor

(Metal Plate Type)
An ultra-low resistance product used for current sensing as a main device for power management. It adopts an electrode structure designed to reduce resistance error. It is a shunt resistor with a high-current metal plate and has high rated power and less resistance changes on Temperature characteristic
Applications

Current sensing for CPU, DC-DC converter, inverter power supply, mobile device, BMS (Battery Management System)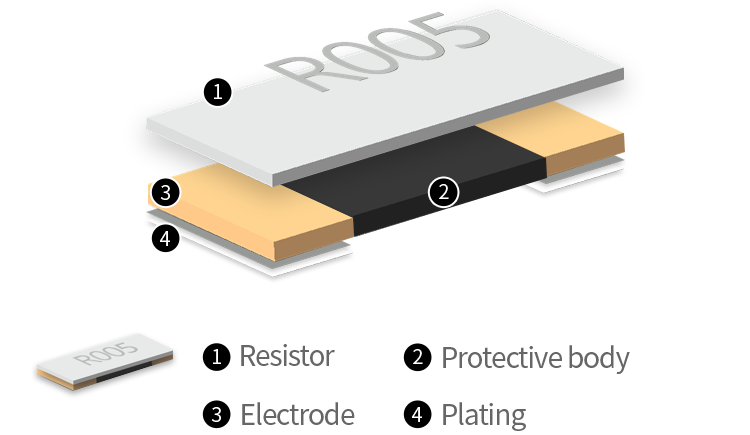 1. Resistor
2. Protective body
3. Electrode
4. Plating
Excellent thermal conductivity

Maintain lower circuit temperature during operation due to excellent heat dissipation

Excellent mechanical strength

Compatible with large PCB warpage

Excellent T.C.R.

Precise measurement and displacement sensor for motor can be applied
CSR (Metal)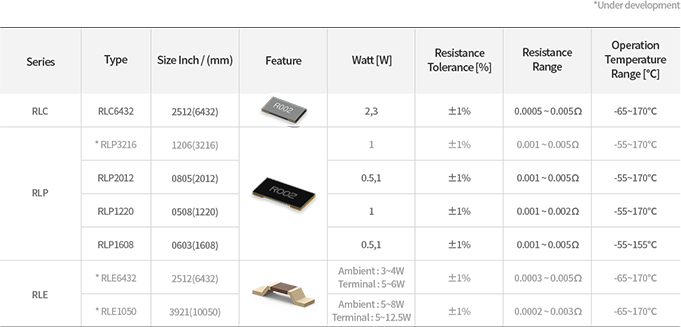 Anti Sulfur Resistor
Chip Resistor mainly uses silver (Ag) as its electrode material, but silver is easily corroded by sulfur (S) and gradually turns into silver sulfide (Ag₂S). Silver sulfide is an insulator and prevents current flow between both terminals of a resistor. Therefore, it is necessary for an electronic device used under a harsh environment to apply a resistor with sulfur resistance. Samsung Electro-Mechanics supplies Chip Resistor with sulfur resistance by developing materials that are resistant to sulfur corrosion with its unique materials and design technology.
Applications

long-term reliability electronic devices, server systems (memory modules/HDDs), network equipment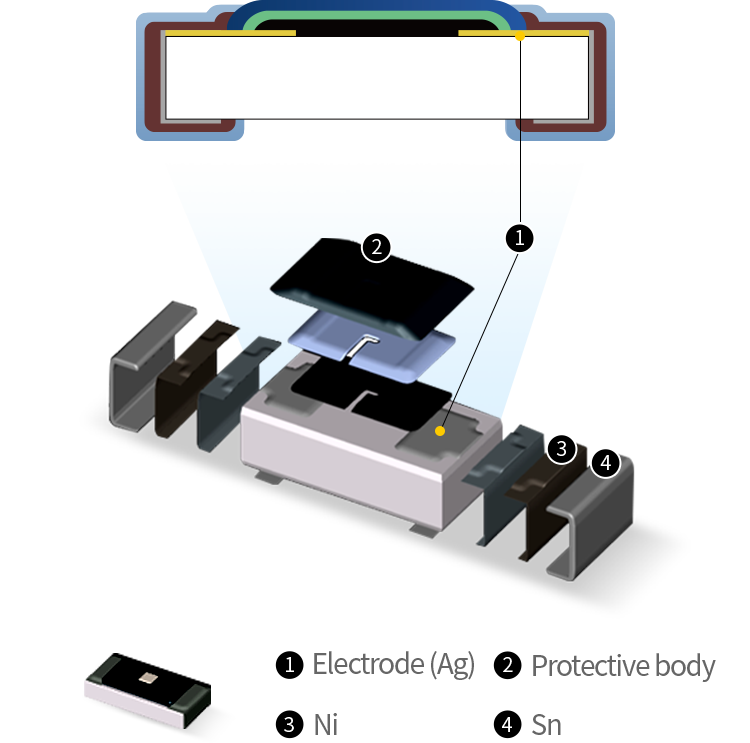 1. Electrode (Ag)
2. Protective body
3. Ni
4. Sn
Stronger sulfur resistance than the international standard of ASTM B 809-95

Highest performance level under corrosive condition (105℃/720hr) due to its unique material technology

Various sizes line up

A lineup that varies from small to large size (0603 to 6432mm) and also covers array resistors
Anti-Sulfur General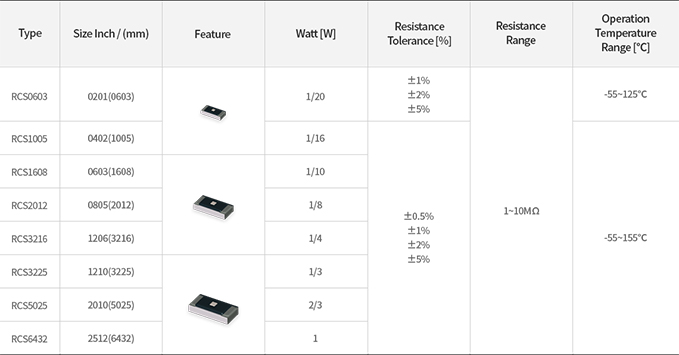 Anti-Sulfur Array

High power Resistor
High Power product has an optimized maximum power of until three times compared to the General Product. In order to achieve its higher power characteristic, the resistor width and length were increased in size. With its independent technology, the increase of resistor area had established superior characteristics compared to competitors.
Applications

miniaturization for space saving, products requiring high reliability in the same size, wireless charging of smartphones, network, server, automotive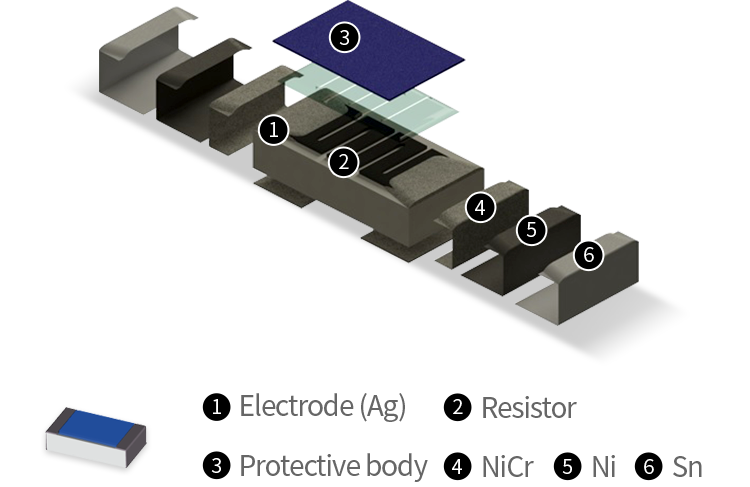 1. Electrode (Ag)
2. Resistor
3. Protective body
4. NiCr
5. Ni
6. Sn
New Core Technology Application for High Level Performance

Increased resistor area

Resistor area enlarged three times with printing and laser cutting

Longer resistor

Resistor length is enlarged to apply serpentine cut to resistor with laser

Uniform Resistor Surface Thickness

Uniform resistor thickness through an established method of Printing
High Power

Total Pb free Resistor
General products contain conductive particles in the resistor and Pb in the glass, respectively. Our company produces Total Pb-free Chip Resistors that satisfy the RoHS standards for raw materials as well as chips. Pb-Free Resistors are eco-friendly products equivalent to general products in all characteristics including electrical characteristics.
Applications

smartphone, tablet PC, wearable devices, display, PC, digital TV. camera, memory module, game console, DC-DC converter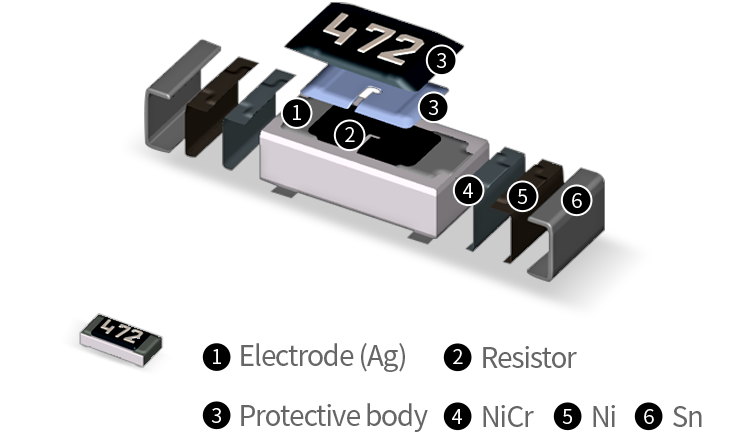 1. Electrode (Ag)
2. Resistor
3. Protective body
4. NiCr
5. Ni
6. Sn
Realizing eco-friendly products that are totally Pb-free

Various sizes line up

Boosting the same lineup as general products, varying from small to large size (0402 to 6432mm) and also covering array resistors and products with sulfur resistance