Vision / Strategy
Sustainability Vision
Samsung Electro-Mechanics is practicing sustainable management based on the trust among various stakeholders including customers and shareholders to move forward as, not just a leading global player that spearheads the cutting-edge technological fields in the world, but also as a creative innovator. We will fulfill our corporate social responsibilities by achieving sustainable growth through the maximization of corporate values as well as by catering to stakeholder demands

To this end, Samsung Electro-Mechanics is committed to 6 core areas i.e. 'Environmental management', 'Shareholders-valued management', 'Quality first management', 'Sharing management' and 'Win-win management'. Accordingly, we will pursue economic feasibility and a balance with the environment, and contribute to solving social problems.
Sustainability Management Strategy
Corporate Social Responsibility Pragmatizer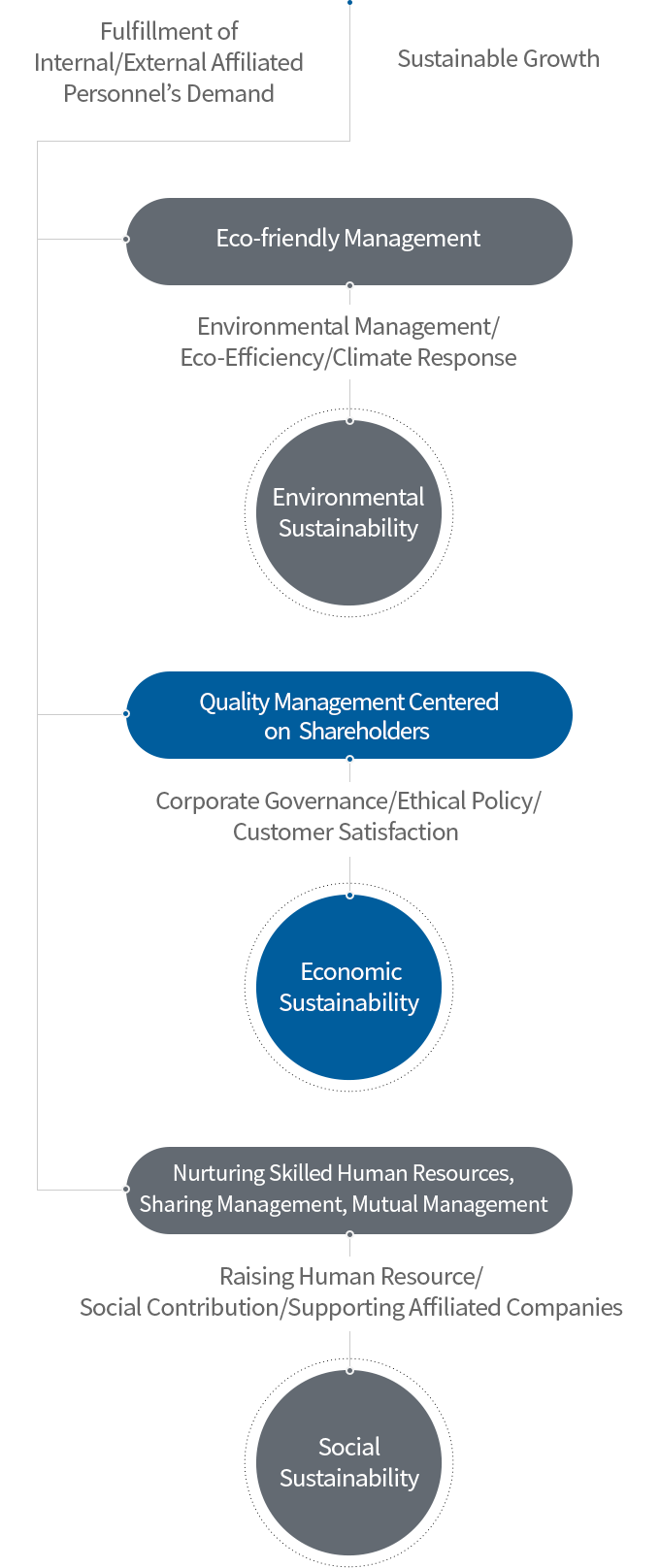 Fulfillment of Internal/External Affiliated Personnel's Demand
Sustainable Growth
Eco-friendly Management

Environmental Management/Eco-Efficiency/Climate Response

Environmental
Sustainability
Quality Management Centered on Shareholders

Corporate Governance/Ethical Policy/Customer Satisfaction

Economic
Sustainability
Nurturing Skilled Human Resources, Sharing Management, Mutual Management

Raising Human Resource/Social Contribution/Supporting Affiliated Companies

Social
Sustainability
Organization
ESG Group
Samsung Electro-Mechanics operates a ESG Group to respond to environmental, social and governance (ESG) management issues through a strong collaboration system. The ESG Group creates synergies based on an organic collaboration system that includes responding to questions from ESG evaluation agencies, publishing sustainability reports, and inquiring about sustainability management of clients. Through this, we are able to respond to the latest issues by understanding global and industry trends, as well as strategic directions related to sustainability management. With various teams at the core—including our support, finance, human resources, safety and environment, and procurement teams—we respond to the demands of our internal and external stakeholders and drive sustainable development. Samsung Electro-Mechanics is catering to internal and external stakeholder needs and driving sustainability. We are responding to internal and external stakeholder demands and driving sustainable development driven by efforts of Business Support Team, Finance & Accounting Team, Human Resource Team, Safety Environment Team, Procurement Team, etc.
Stakeholder Communication
Samsung Electro–Mechanics values open communication with various interest groups. Through transparent corporate management and mutual trust opinions are actively obtained. These opinions are actively reviewed, applied in different sustainable management policies and made public through domestic and foreign channels.
Stakeholder Communication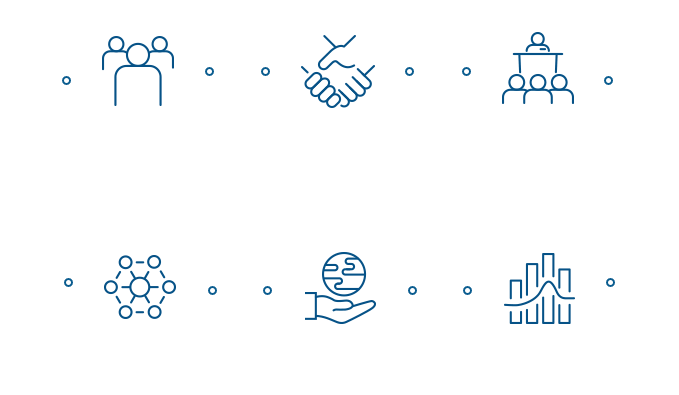 Customers
Business Partners
Employees
Communities
Environment
Shareholders
Significance Analysis
Discovery Process for Key Issues
STEP 1

Issues

Media Research
Review Global ESG Standards
(GRI, DJSI, CDP, RBA, etc.)
Discovering Internal Management Issues

STEP 2

Identification

Grouping Issues
Designating Stakeholder Groups

STEP 3

Prioritization

Analyzing the Stakeholder Questionnaire and Results
Quantifying the Issues

STEP 4

Key Issues

Analysis of Top 3 Issues
Selecting Issues to be Reported

STEP 5

Materiality Matrix

Final Verification
Reporting Application
Risk Management
Internal Accounting Management
For the purpose of transparency, accounting information and for the proof of trustworthiness of the information disclosed among our stakeholders, Samsung Electro-Mechanics operates under an internal audit management system. Not only is the financial reported by the internal accountant at Samsung Electro-Mechanics, but there is also a much broader sense of an audit system that meets global standards in management of policies.

This helps us to prepare for any potential business risks, including CSR related issues, environment related regulations, conflicts on minerals management and environmental friendliness evaluations and more.
Business Continuity Management
Samsung Electro-Mechanics contributes to sustainable growth by ensuring a stable supply of products and services to customers based on the continuity of production activities. We have established the business continuity management in preparation for business suspension due to unexpected accidents.

Samsung Electro-Mechanics created scenarios to respond to crises caused by major accidents including fire and blackouts to secure business continuity. Periodic training and education on the business continuity procedure is conducted We categorize major stakeholders including internal/external customers, business partners and communities and maintain communication through stakeholder analysis.
Climate Change
Samsung Electro-Mechanics put in place a decision-making process to respond to the emission-trading scheme by operating the Climate Strategy Committee and regularly monitoring the financial impact resulting from the emission right trading. Site-specific annual safety check is carried out by an external agency, enabling comprehensive risk assessment and management of assets including on-site buildings, facilities and machinery occurring due to natural disasters.
As such, we do the utmost to maintain stable business activities.
Information Protection
We prescribed information security regulations and implementation guidelines to protect Samsung Electro-Mechanics's critical information and assets, and operate physical and technical protection measures to abide by them. This helps us to maintain optimized sites in security through periodic inspection and improvement activities. Thanks to close business ties with related agencies outside, we explore industrial security trends and information leakage scenarios through preventive programs to safeguard against security accidents.
Tax Risk
Samsung Electro-Mechanics fulfills the obligations on tax filing and payment of taxes by complying with tax laws of local countries as prescribed in Samsung Electro-Mechanics's tax payment management guideline. To this end, we maintain transparent relationships with tax authorities in local countries where local subsidiaries of Samsung Electro-Mechanics belong, help with career management of personnel in local subsidiaries, and proactively utilize external specialists including accountants. Samsung Electro-Mechanis do not transfer value generated from business activities to low-tax jurisdictions such as tax havens for tax avoiding purposes. In particular, we maintain fair trading prices when dealing with third parties and special parties in accordance with each domestic transaction laws. Also, we undertake transfer pricing using the arm's length principle.
Taxpaying Management Guideline
Principle: Compliance with the HQ and tax laws of local countries
1.All laws and regulations shall prioritize accounting standards and tax laws of the HQ and local countries.
2.Parties involved shall recognize differences between tax laws in each country, comply with tax laws in all transactions, and implement tax filing and tax paying obligations. we do not use secrecy jurisdictions or so-called "tax havens" for tax avoidance, and do not transfer value created to low tax jurisdictions.
3.Employees in charge of tax payment at local subsidiaries shall maintain transparent relationships with the tax authorities in each country and strive to prevent tax risks.
4.Management of internal personnel and utilization of external specialists must be maximized to comply with tax laws in local countries of overseas subsidiaries and prevent tax risks.