概要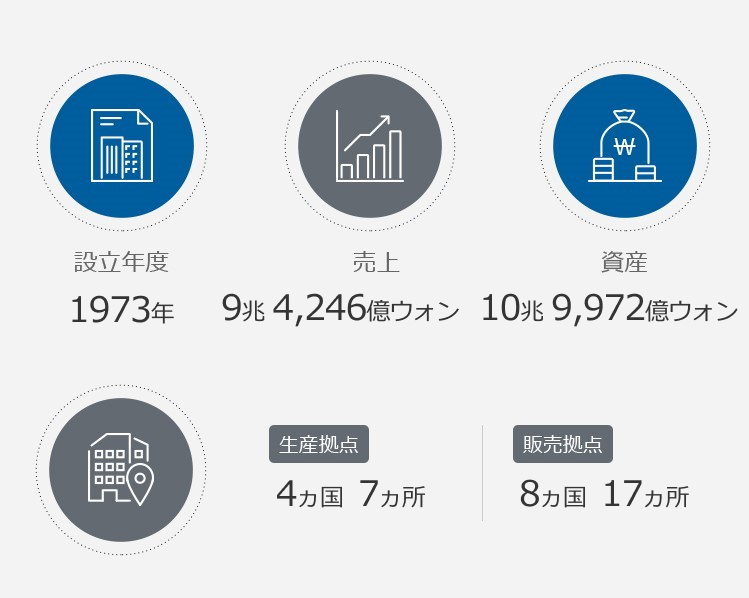 設立年度 1973年
売上 9兆 6,750億ウォン
資産 9兆 9,414億ウォン
拠点現況
生産拠点 – 4ヵ国7ヵ所
販売拠点 – 8ヵ国17ヵ所
* 2021年連結基準 - 売上 · 資産
1973年に創立されたサムスン電機は、韓国国内市場だけでなく、世界的に中核を担う電子部品を開発し生産する企業に成長し続けております。サムスン電機(Samsung Electro-Mechanics)の「電機」は、漢字では雷の電と、機械の機を用いており、英文ではElectro(電気)とMechanics(機械)と表記します。
創立当時、オーディオ/ビデオ部品の生産を基盤に大韓民国部品産業の技術的自立の土台を築いたサムスン電機は、1980年代に素材及びコンピューター部品へと事業領域を多角化させ、1990年代にはチップ部品、移動通信部品、光部品のような次世代の有望な新商品開発に注力しました。
2000年代に入り素材、多層薄膜成型、高周波回路設計の技術をベースにして技術戦略によりさらなる飛躍と事業のシナジー創出を図っており、これを中心にチップ部品、カメラモジュール、通信モジュール、基板等の事業を世界トップレベルに成長しています。
サムスン電機は中核商品の一流化と技術の融・複合を通じた持続的な新商品開発を追及し、ビジネスポートフォリオを拡大していくと同時に次世代の未来成長事業をスピード育成し電子部品業界1位企業として飛躍していきます。
Mission & Vision
Our Mission
We bring the best components and
compelling solutions that enrich people's
experience
Vision
Enable all lives to experience
an unparalleled journey
through excellence and growth
(All lives includes employees, customers,
vendors and any other associates)
Core Value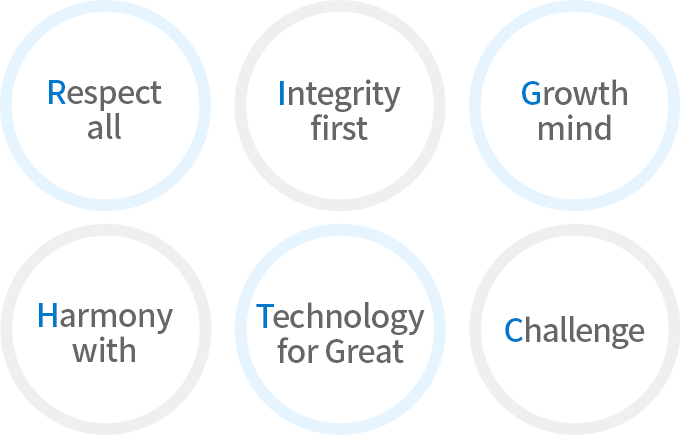 Respect all
Integrity first
Growth mind
Harmony with
Technology for Great
Respect all

Feel free to express opinions.
Recognize diversity of individuals.
Integrity first

Conduct consistently and fairly in accordance with the principles.
Growth mind

Desire to learn and grow with curiosity.
Strive for growth with a sense of ownership.
Harmony with

Maintain physical and mental health.
Pursuit of happiness at work.
Contribute to customers, societies, and people.
Technology for Great

Focus on the best technology for customer's success.
Challenge the new things continuously without the fear of failure.
Dive deep until to achieve the essence.
Challenge

Challenge with RiGHT core values.
Strive to become core subject matter experts.
Leadership Principle
Encourage curiosity,
Stimulate learning,
Generate energy and Deliver success