Samsung Electro-Mechanics Publishes the 2020-2021 Sustainability Report
- Produced as an online PDF to protect the environment
- Held electronic voting and a general meeting of shareholders online to increase shareholder convenience
- Ensured the independence of the Board of Directors by forming the Compensation Committee only with external directors
- Disclosed responsible mineral usage and reflected TCFD recommendations to respond to climate change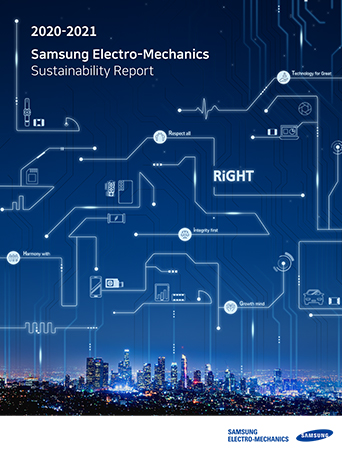 Samsung Electro-Mechanics has published the 2020-2021 Sustainability Report, which contains our mission, vision, core values, management strategy directions, and ESG practices. To satisfy stakeholders' right to know, Samsung Electro-Mechanics has published sustainability reports since 2006.

We conducted third-party verification to improve the accuracy and reliability of data. This report is distributed online only as an PDF without printing or binding as part of our eco-friendly practices.


In 2021, Samsung Electro-Mechanics introduced an electronic shareholder meeting. We conducted electronic voting and live-streamed the shareholder meeting online for shareholders who could not attend the meeting due to social distancing to prevent the spread of COVID-19 or logistical issues. At the shareholder meeting, we enhanced communication as our executives answered questions that were received on-site and online.
We have also increased the independence of the Board of Directors by forming the Compensation Committee only with external directors starting last year.


Samsung Electro-Mechanics puts into practice the environmental and human rights standards of the Responsible Business Alliance (RBA). We do not use responsible minerals mined unethically, and we disclose the status of mineral usage in conflict zones and high-risk areas.
We check and improve risk factors such as the status of responsible mineral usage on a regular basis at least once a year across the entire supply chain. Our policy on responsible minerals and the status of mineral usage are available for anyone on the website.


We also reflected the recommendations of the Task Force on Climate-Related Financial Disclosures (TCFD) in our Sustainability Report.

At Samsung Electro-Mechanics, we constantly strive to create a better society through change and growth driven by sustainability.
ニュースレター
サムスン電機の主なニュースを迅速
にお伝えします