Looking back at Samsung Electro-Mechanics' 49-year history (Since January 1, 1973)
November 1st is the 49th anniversary of Samsung Electro-Mechanics. Founded in 1973, Samsung Electro-Mechanics has laid the foundation for technological independence in the Korean parts industry and is leaping forward as the No. 1 electronic components company.
Visit our website to learn what path the company has taken.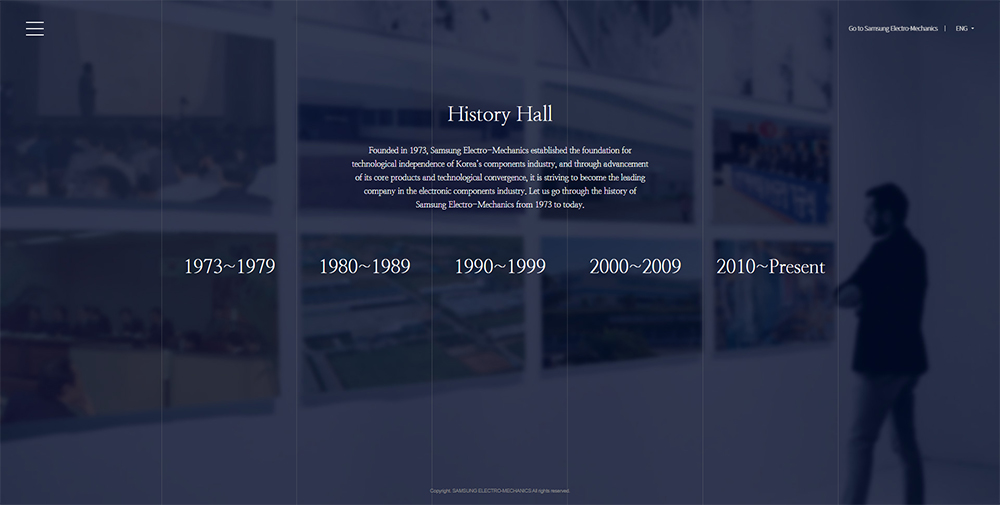 The History Hall of Samsung Electro-Mechanics' Online PR Hall gives an overview of the company's growth from the 1970s, when the Korean electronics industry achieved localization, to the 1980s, when we grew into a comprehensive parts maker, to the 1990s, when we pursued "quality-oriented management" to be reborn as a top-notch company, to the 2000s when we entered into the digital era, and to the present when we are preparing for the Fourth Industrial Revolution. You can see our major business activities, as well as overall changes in the electronic equipment and parts industry.
Samsung Electro-Mechanics' history of moving toward as a "top-notch tech components company" in the changing global environment continues.